| | |
| --- | --- |
| Jessie's Office Treacle Head Dunk 0096 | |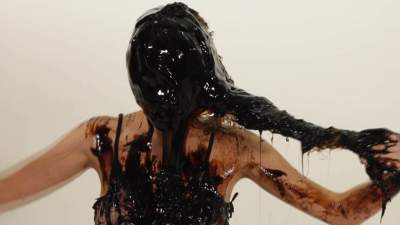 Starring the following model:
"Join Jessie for full-on treacle head dunking, pie sitting and much more!"
| | |
| --- | --- |
| File count: | 1 |
| Total size: | 552.14 MB |
| Total runtime: | 15 mins, 21 secs |
| Date added: | 9/14/18 |
| Views: | 959 |
| Scene ID: | 30257 |

$8.99
Today, Jessie has turned up at the office for an interview, but no-one is in--instead, there is a large bucket of treacle. Unable to resist, Jessie strips off her smart blouse to reveal her sheer lingerie beneath it, and lowers herself towards the bucket. First, she just kisses the surface of the treacle, but with each dunk she goes further in. Before long she has buried her head in the incredible thick goo, driving her beautiful face into the treacle for total coverage.

As she is completely covered, it takes a moment for Jessie to clear her eyes in order to see. She discovers that the treacle has gone (boo!) but has been replaced with two more buckets (hooray!)--one of bright yellow custard, the other of dark chocolate pudding. Deciding to try the custard first., she drops to her knees in front of the bucket and again pushes her head way down into it, waves of custard covering her head completely as she wriggles in delight. Several more head dunks follow, as Jessie takes great care to ensure her hair is also covered.

Next she tries the chocolate pudding (a rare treat on this side of the pond!), and revels in the sensation of burying her head into it over and over again. Jessie decides that her top half is now messy enough, but below the waist is too clean. Striping out of her mini skirt to reveal the tiny thong and sexy lace stockings below, she returns to the custard. With her head pushed way down into the custard, a thick creamy custard pie is slammed into her butt from behind. Jessie emerges from the custard with a gasp, and begs for another pie. Several more pies are splatted onto her beautiful bottom while her face is buried deep into the custard, the combined sensation making her gasp in delight.

The chocolate was a particular highlight for Jessie, and she lays on her back with her long hair fanned out around her head. She asks for the chocolate to be poured on her hair, and then begs for her face to be covered in it. The entire bucket of thick mess rains down on her from above, and she stirs it into her hair before picking up her thick, matted locks and laying them across her own face.

Another pie beckons, and this time Jessie straddles it, before lowering herself onto it so the creamy filling squirts up between her legs. While she grinds her hips into the pie, a bucket of custard is poured slowly over her upturned face. Now completely covered in mess from head to toe, she pulls down her top to reveal her incredible boobs in all their glory. Rubbing the custard over her body and into her hair, he reflects that she may have missed her interview, but she had a wonderful time.
Includes this file:
jessie02-office-treacle-headdunk1920x1080.wmv

1920x1080

5,028 Kbps

552.14 MB

15.4 minutes

Report