| | |
| --- | --- |
| Lorna's Gunge Bondage Pt2 0065 | |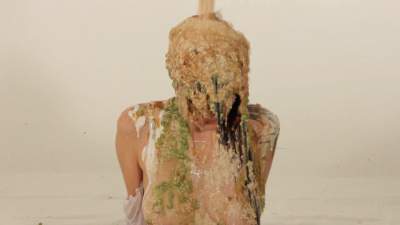 Starring the following model:
"Lorna's bondage humiliation continues as she is stripped nude and gunged!"
| | |
| --- | --- |
| File count: | 2 |
| Total size: | 563.75 MB |
| Runtime: | 15 mins, 27 secs |
| Released: | 8/10/18 |
| Views: | 2717 |
| Scene ID: | 29637 |

$8.99
Part two opens with Lorna asking 'When will this stop? I can't take anymore!' She moans and squeals while cold, disgusting mushy peas are poured over her head, followed by custard and beans. Freezing cold yoghurt rains down on her, then spaghetti over her hair and her boobs. She wriggles and squirms as the cold mess rains down, but can't escape! Mushy peas, syrup and mixed-up slop are poured over her feet while she wriggles her toes in disgust. Next, Lorna gets drenched in mayonnaise, ketchup and rice pudding, all flooding over her head and down her body while she complains bitterly about the cold and the smell of the disgusting mixture which coats her. A constant stream of spaghetti, yoghurt, chocolate sauce and more are poured on her, and we see closeups of her hard nipples and wriggling feet as they get extra coverage. To finish, a bucket of porridge is dumped on her head, then more disgusting mushy peas, and finally the worst of the lot--three jugs of mixed-up slop, scraped up from the floor and poured on her head and feet. 'Wait, who's going to untie me? Please don't leave me here!' she begs as the scene fades to black.

That's not all though: Now we get to see a bonus interview scene, shot while Lorna is still sitting in the pile of goo from the shoot. We find out what she first thought of the script, whether she was nervous, whether it turned out to be worse that she thought, and whether she was pretending to be disgusted of just acting naturally. She also talks about why she chooses to do messy fetish modelling, what her favourite and least favourite substances are, and how she feels about mushy peas!
Includes these files:
lorna_gb2_1920x1080.wmv

1920x1080

5,017 Kbps

554.82 MB

15.5 minutes
lorsgbpt2.zip

Zip file

8.93 MB

Report