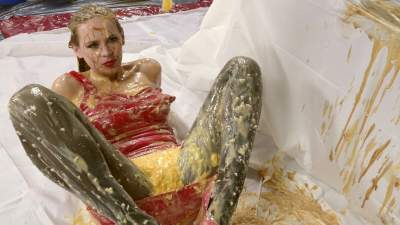 Starring the following model:
"Freya gets covered in sweet and sticky dessert!"
| | |
| --- | --- |
| File count: | 1 |
| Total size: | 627.42 MB |
| Total runtime: | 14 mins, 12 secs |
| Date added: | 9/01/17 |
| Product ID: | Freya03 |
| Views: | 2894 |
| Scene ID: | 24127 |

$8.99
New model Freya appears in her first scene for us--Freya has long legs, long red hair, and a sexy russian accent, and she loves to get messy! In this scene, she thanks you for dinner, but insists that dessert is on her... luckily this restaurant is well stocked with custard, chocolate, pies, treacle and porridge!

Freya starts by covering her glossy black tights in creamy custard, then hitching up her sexy red dress to rub it into her butt. Loving the feel of the mess, she pours rice pudding into her dress, then pulls it up so we can watch it flood across her tights and knickers.

Next, her incredible mane of red hair is released, reaching almost to her waist. She adopts the classic Hotwam pose (TM) for some extremely thorough hair-dunking which coats every strand. Now Freya leans back, opens her legs, and asks you to fill her up. Well, she must mean with custard right? Two full cartons of custard flood across her tights and cover her crotch. She moans, writhes, and rubs her slick thighs together as the mess pours in.

Freya's face is still clean, but spotting a jug of cherry pie filling, she soon fixes that. What else looks good with a cherry on top? A pie! Luckily we have one to hand, and Freya teases us for a minute before grinding her crotch into it.

Next on the menu is a treacle shampoo. Freya's hair is so long and thick that it absorbed almost ten kilos of treacle, and she delights in rubbing the intense black mess into her beautiful hair until it is just a sticky ball.

No dessert would be complete without chocolate, and Freya dumps a full bowl of it over her upturned face, stripping first to ensure she is totally covered. But wait, what if there's a clean bit somewhere? Lets tip a brim-full bucket of warm porridge over her, just to be sure she's covered. Freya has no complaints, and moans in delight as she is deluged in twenty litres of the creamy mess. She writhes around in the mess, scooping up handfuls from the floor before she's done. So, what comes after dessert; coffee, or...? That part is up to you!