| | |
| --- | --- |
| Lane Drenched in Custard 0093 | |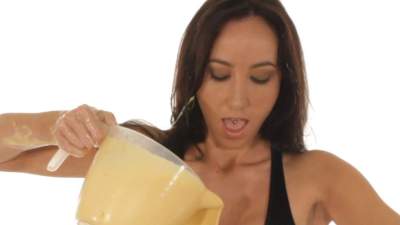 Starring the following model:
"Lane wears tights, leotard and shorts...and gallons of custard!"
| | |
| --- | --- |
| File count: | 2 |
| Total size: | 535.87 MB |
| Total runtime: | 14 mins, 46 secs |
| Date added: | 8/04/17 |
| Views: | 2969 |
| Scene ID: | 23616 |

$8.99
We asked Lane to pick an outfit from the studio wardrobe, which showed off her best features. Starting nude she talks you through her choice, pulling on some sheer black tights to accentuate her legs and butt, a velvet thong body that clings to her boobs, and some tiny denim hotpants. According to Lane, her best feature is 'all of me!' but in this scene she singles out her glorious bottom for some special attention. Lane starts off the scene by pouring a jug of custard over her butt and letting it trickle down her legs, before pouring another jug inside her shorts. Sitting with her legs spread, she crams as much custard as she can into the hotpants, squeezing it all out and rubbing it over her thighs. Then she strips them off, and teases you by wiggling her butt. 'You know you want to!' she says, and a great flood of custard pours over her velvet thong and glossy black tights. Lane bends forward to show off her perfect ass getting covered in the rich creamy pudding. Then she pours another jug of custard into her cleavage, letting it trickle down inside her body and flood out between her legs. Lane continues to gradually strip off, getting more and more covered, from her waist-length hair to the tips of her toes. She does plenty of hair-dunking and head-dunking, before her grand finale--a naked pie-sit and total custard facial!
Includes these files:
lane-custard-tights-img.zip

800x450

Zip file of 24 photos

5.34 MB

sizes may vary
lane02-tights-and-shorts-1920x1080.wmv

1920x1080

5,022 Kbps

530.54 MB

14.8 minutes